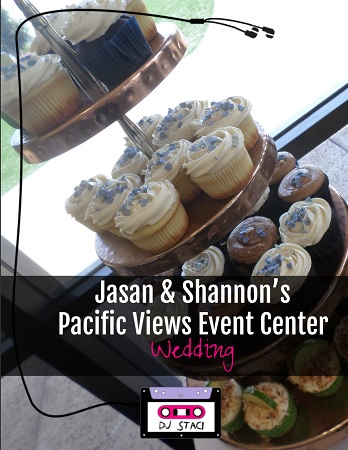 Of all the San Diego wedding DJs around, Jasan & Shannon chose me to DJ and MC their Pacific Views Event Center wedding (Seaview Room) on Friday, July 7, 2017….well, technically it was a ten year anniversary vow renewal 🙂

THE LOVE STORY
Shannon & Jasan met in January 2007, while they were working at a country bar called McCloud's. After a Friday night of partying, these two love birds were taking a lazy Saturday afternoon nap when they first said "I love you"…awwww. Together they enjoy dancing, eating, working out, playing cards and dice, drinking coffee, going for walks, holding hands, and a glass of wine in their backyard. They have spent half—yes half—of their married life away from each other due to Jason serving our country.
On Friday, June 8, 2007, Jason convinced Shannon to go out to the bar where they first met. When they arrived, some friends and family just happened to be there already. A bit later, Shannon & Jason were slow dancing to 'Amazed.' At the end of the song, Jason got down on one knee and asked Shannon a very important question. Shannon just stood there in shock, and Jason said, "Are you going to say yes or am I going to sit here on my knee all night?" She somehow got the word, "Yes," out. Ten years and three kids later, we celebrated their vow renewal at the Pacific Views Event Center (Seaview Room).

THE CEREMONY
After I played country love songs as the guests were being seated, the first processional was "You Had Me From Hello," Kenny Chesney. The second processional was "Make you Feel My Love," Garth Brooks. And the bride entered to "I do (Cherish You)," Mark Wills. After the big kiss, Shannon & Jasan exited to "I'm Yours," Jason Mraz.
THE PACIFIC VIEWS EVENT CENTER WEDDING RECEPTION
After the Grand Entrance, a welcome speech, dinner, an informal cake cutting, toasts, Mother-Son Dance to "Simple Man," Lynyrd Skynyrd, Father-Daughter Dance to "Baby Blue," George Strait, and the First Dance to "Amazed," Lone Star, we took a group photo on the dance floor and started opening dancing. The photo booth also opened during dinner & dancing. Unfortunately, the Pacific Views Event Center did not follow our instructions and shrink down the dance floor size to 15′ x 15′ as we requested (I'm guessing they left it around 40′ x 40′). Check out the video below to see why dance floor size is such a crucial issue for maximum entertainment…..even though there are plenty of people dancing, the dance floor looked barren and empty all night (no good "packed dance floor" photos for the bride…and shy dancers not having the "cover" they need to comfortably get out on the floor–when the floor is packed, people don't feel like spectacles out there).
Later on, the garter was removed to "Danger Zone," Kenny Loggins and tossed to "Whatta Man," Salt N Pepa. The bouquet Ready to Run, Dixie Chicks. They also asked me to do a Longest Married Couple Dance to "From the Ground Up," Dan & Shay.

THE PLAYLIST
For the cocktail hour/dinner playlist at this Pacific Views Event Center wedding, the bride and groom requested:
For dancing, Jasan & Shannon requested Top 40/Pop, 80s Pop/Rock/New Wave, 90s R&B/Boy Bands/Pop, Oldies, New Country, and lots of Slow Dances. Their Must Play list consisted of:
Pour Some Sugar on Me, Def Lepard
Again, I was honored to be the one and only San Diego wedding DJ Jasan and Shannon trusted with their big day. Thank you!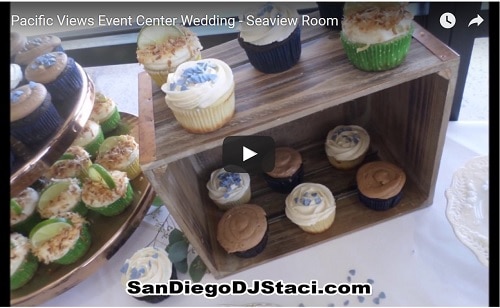 SAN DIEGO WEDDING VENDOR LIST
Here is the amazing team of San Diego wedding vendors I had the pleasure of working with on Saturday
Venue/Caterer ➔  Pacific Views Event Center (Seaview Room)
DJ ➔  Staci Nichols
Photographer/Photo Booth ➔  Olga Kubrak Photography
Videographer  ➔ Amber Hirmas from EBC Weddings
Officiant  ➔ Joe Cole
Cake Baker  ➔  Natalie Bruhn
Florist  ➔  Kathy Duane
Save
Save
Save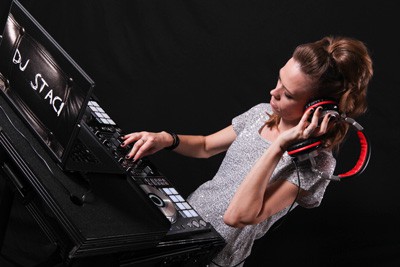 "You can go your own way"...and unsubscribe any time.