DJ Staci
San Diego Wedding DJ :: Female San Diego DJ :: Bilingual San Diego DJ
Mad Scientist of Raise-the-Roof-Ology
I am a San Diego wedding DJ who sells fist pumps, air guitar, and twerking that often involves spilling a drink. If someone at your event hasn't taken off their jacket and "flossed" between their legs with it, I dig deeper. My epic dance floor energy recipe? I spin those guilty-pleasure "everybody faves" in a fresh way (yes–including Spanish and country music) by creating my own remixes/edits, sprinkling in a few "long lost loves," and mixing seamlessly to remove awkward pauses.
Even though I am primarily a San Diego wedding DJ, I have performed everywhere from the Las Vegas strip, one of the world's largest music festivals (Stagecoach), celebrity & international weddings, and for many big name companies.

"Best wedding ever.

Perfect

music."
-Will, Puerto Vallarta, MX
"Staci is

the best

in her line of business."
LAST YEAR, I TURNED AWAY
60 COUPLES

BECAUSE I WAS ALREADY BOOKED ON THEIR DATES.
"An

epic dance party

that my friends are still talking about…"
"Don't you worry, don't you worry child…"
'CAUSE I'VE GOT A PLAN FOR YOU!
Click to enlarge one of my signature OCD wedding outlines.

PHOTO-WORTHY SET-UP
Who wants to spend hours on Pinterest so your wedding will look like a million bucks…just to have the DJ park a bunch of Radio-Shack-y black metal smack dab in the middle of it?

A FEW TRICKS UP MY SLEEVE
Were you thinking about putting your cake in the corner of the room? When you invest in an experienced San Diego wedding DJ like myself, I'll warn you about un-necessarily clearing the dance floor to have everyone go watch you cut the cake. If we put the cake by the dance floor instead, not only will we not lose any dancers…but a few stragglers will actually join in! Or how about a group photo on the dance floor to kick off opening dancing (i.e. instantly packed dance floor)?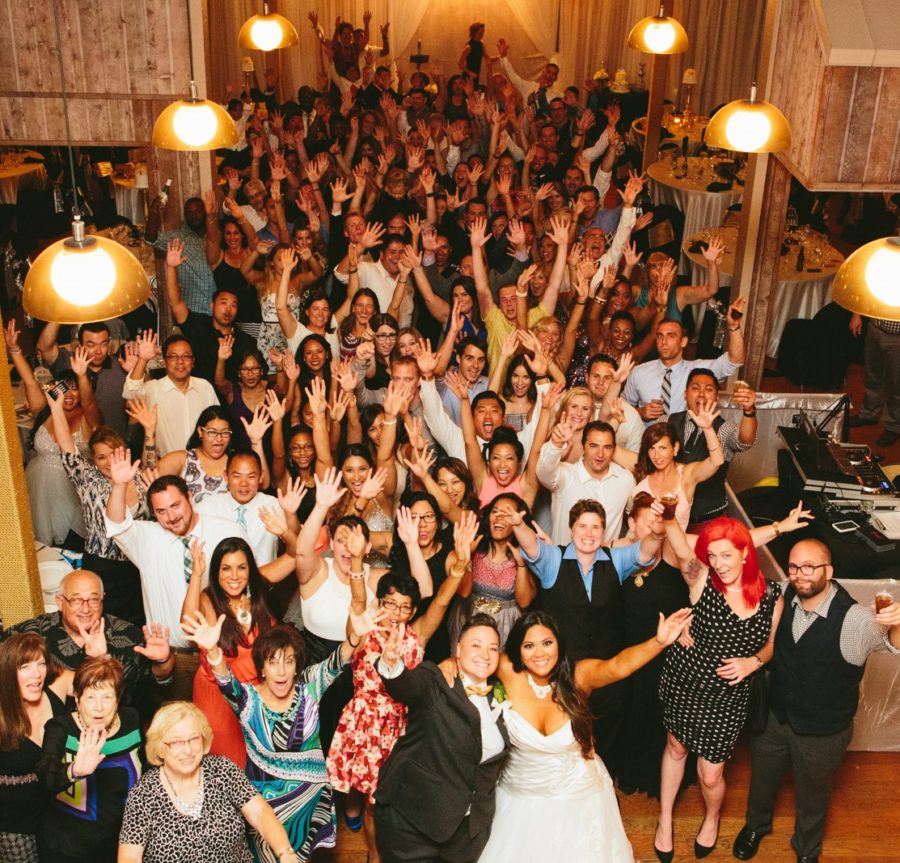 STAGING
"Staging" means I will have your toasters prepped and ready waiting in the wings. Your parents will know when their special dances are coming. A knife will be on the cake table before I announce your cake cutting. We won't toss the bouquet while the photographer in the bathroom.
IN-PERSON PLANNING
Getting to understand someone else's music (not to mention their family, their love story) is pretty damn intimate…When you hire me to be your San Diego wedding DJ, we'll do that face-to-face.Save
Save
Save
Save
Save
Save
Save
Save
Save
Save
Save
Save
Save
"It was the

best wedding

they'd ever been to…"
"YOU ONLY GET ONE SHOT. DO NOT MISS YOUR CHANCE TO BLOW
THIS OPPORTUNITY COMES ONCE IN A LIFETIME

, YO…"
"Average" prices are for "average" DJs…and, I'm guessing, you've read this far down on the page because "celebrate good times" and "I gotta feeling" are two little phrases you don't want to hear at your wedding. I offer a boutique San Diego wedding DJ experience where "average" is, quite frankly, unacceptable. Therefore, my couples typically invest $1,500-$1,700 on my DJ performances.
"There was

an energy

in that room of the likes I've never seen before…"
"…you better lose yourself in the music, the moment.
You own it.

You better never let it go."
Let's chat while we enjoy a spa pedicure, some over-priced juice, or a bowl of pho! We'll have a chuckle about the cumberbund your cousin's DJ wore a few weeks ago…and start plotting how YOUR WEDDING will take over the world (mwhaaa). My clients are happy to meet in person before they hire their San Diego wedding DJ because they don't want a cookie-cutter wedding planned via e-mail. Can I get an amen?
"It was the

most fun wedding

they have ever been to…"
Just window shopping for a San Diego wedding DJ?
Pin me

to your wedding board for later!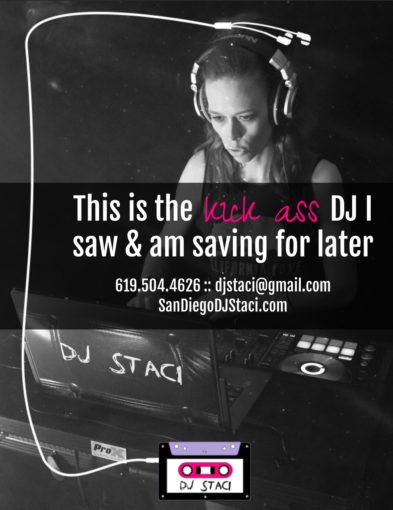 Save
Save