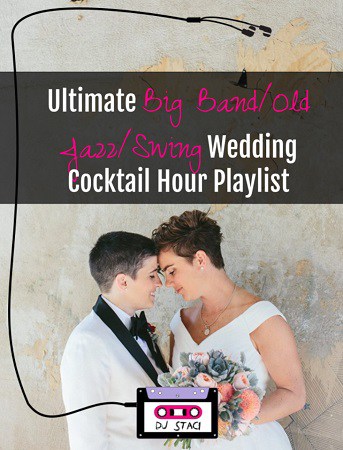 Stop the hunt! Forget about all those playlists out there put together by wedding bloggers…if you want a Big Band vibe for your wedding Cocktail Hour (or Dinner), you want San Diego DJ Staci's "Ultimate Big Band/Old Jazz/Swing Wedding Cocktail Hour Playlist."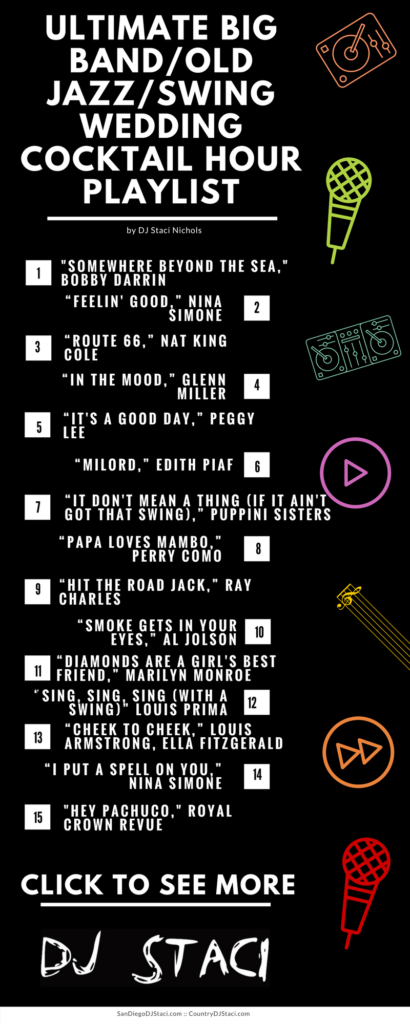 "Somewhere Beyond the Sea," Bobby Darrin
"Dream a Little Dream of Me," Louis Armstrong, Ella Fitzgerald
"Feelin' Good," Nina Simone
"Route 66," Nat King Cole
"In the Mood," Glenn Miller
"It's a Good Day," Peggy Lee
"I'll Be Seeing You," Billie Holliday
"Milord," Edith Piaf
"It Don't Mean a Thing (If It Ain't Got that Swing)," Puppini Sisters
"Via Con Mi," Paolo Conti
"Papa Loves Mambo," Perry Como
"Makin' Whoopie," Ella Fitzgerald
"They Can't Take that Away," Sammy Davis, Jr.
"Hit the Road Jack," Ray Charles
"Tu Vuo Fa l'Americano," Dany Brillant
"L-O-V-E (French or Italian version)," Nat King Cole
"Smoke Gets in Your Eyes," Al Jolson
"That's Amore," Dean Martin
"Mack the Knife," Bobby Darrin
"Moonlight Serenade," Glenn Miller
"Diamonds Are a Girl's Best Friend," Marilyn Monroe
"The Best is Yet to Come," Frank Sinatra
"Make Someone Happy," Jimmy Durante
"Crapa Pelada," Quartteto Cetra
"Sing, Sing, Sing (with a Swing)" Louis Prima
"Cheek to Cheek," Louis Armstrong, Ella Fitzgerald
"I Put a Spell on You," Nina Simone
"Hey Pachuco," Royal Crown Revue
Listen to the entire playlist by clicking the play button below.
What do you think of San Diego DJ Staci's "Ultimate Big Band/Old Jazz/Swing Wedding Cocktail Hour Playlist?" Let me know in the comments below if I missed one of your faves. (Sorry Cab Calloway, I ran out of room!)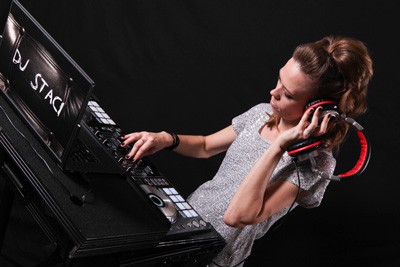 "You can go your own way"...and unsubscribe any time.