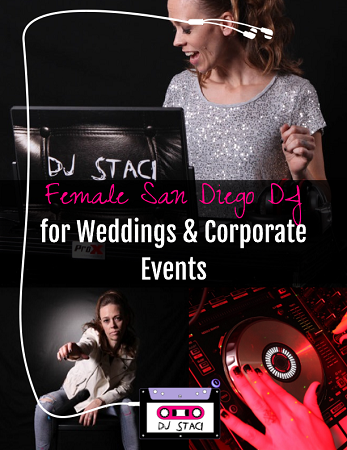 There are a number of reasons why someone might seek out a FEMALE San Diego DJ for their wedding or corporate event…and possibly even some benefits they might not have considered.
WHO'S LOOKING SPECIFICALLY FOR A FEMALE SAN DIEGO DJ?
In my experience, both gay and lesbian engaged couples are interested in the services of a female San Diego DJ.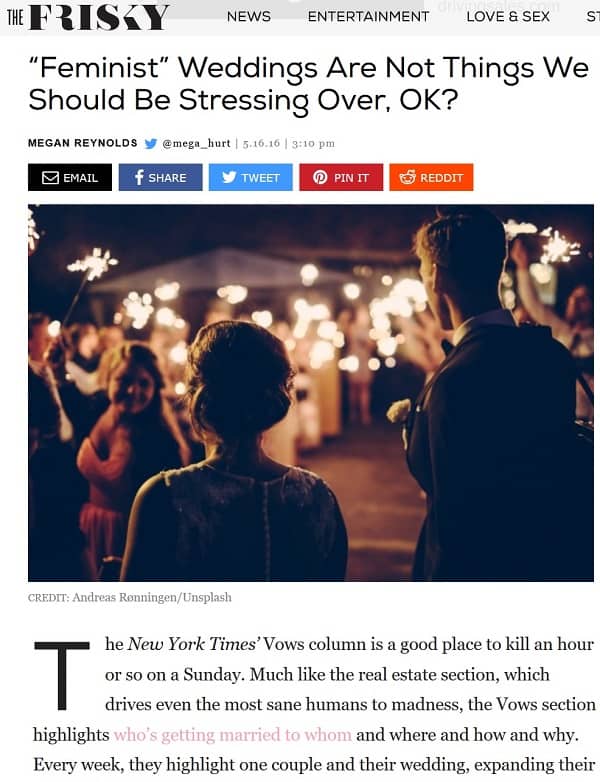 In addition to same-sex couples, many brides seem to find comfort in knowing their wedding DJ has been a bride herself, understands what it's like to plan & host a wedding, "gets" Pinterest addiction, and loves to dance as much as she does. Even though grooms in heterosexual couples are becoming increasingly more hands-on with the wedding planning process over the last decade, at best, the majority of grooms I work with contribute very little. Generally, the groom (if involved at all), is told to hire a DJ and then the bride handles 80-100% of the actual DJ planning (playlists, event timeline, etc). In reality, at least half or more of the heterosexual grooms I have worked with do not even care to pick out the Mother-Son Dance song themselves (they ask their mothers or the brides to do it). A female wedding DJ can feel like a bonus bridesmaid as well as a trusted professional to many brides.
Another segment seeking out female San Diego DJs are those hosting bachelor and frat parties and similar type events. (Yes, I have received inquiries for events requiring me to wear a bikini top to DJ their pool party.)
Finally, the last group likely to search for a female San Diego DJ, in my experience, are those looking to make a statement…perhaps a feminist statement, maybe just some "wow factor." Either way, the choices you make for your wedding or corporate event do reflect back on your "brand" (or "couple identity") in the same way your car or clothes do.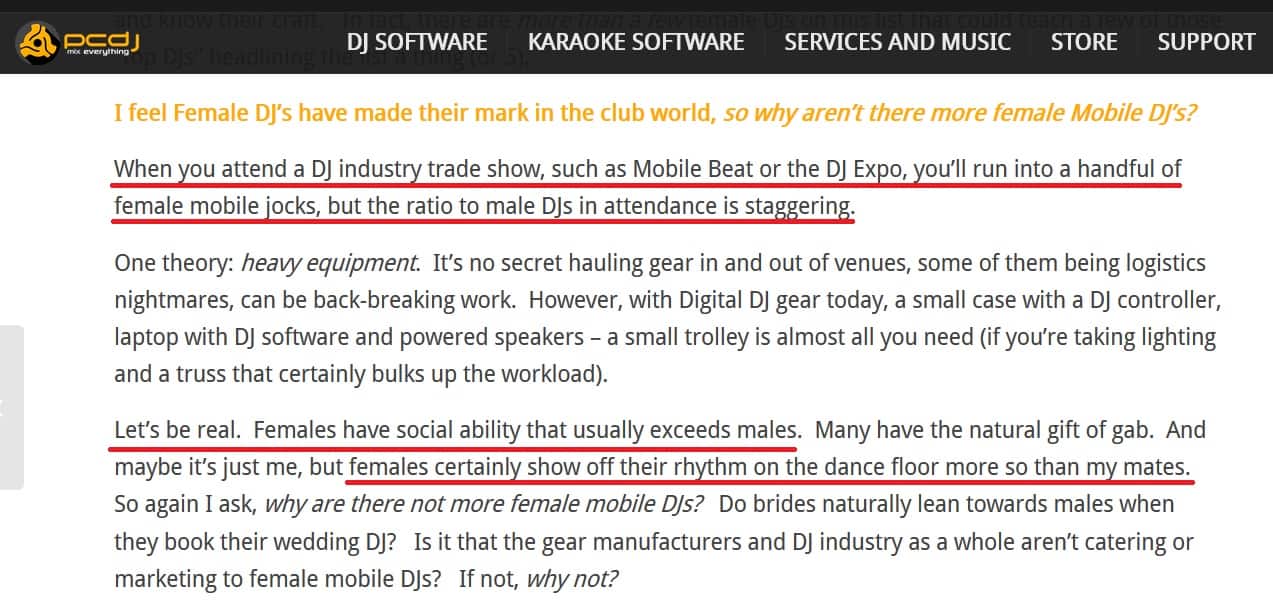 A FEW FEMALE DJ STATISTICS
So according to an annual survey by DigitalDJTips.com, a whopping 5% of their readers are women. While I don't have solid numbers, below is a picture of the female DJ networking dinner attendees at a recent Mobile Beat (a conference for mobile DJs held annually in Las Vegas), which typically hosts about 400-700 mobile DJs from around the world. Of the 14 women in the picture, some are spouses attending the conference with their DJ husbands and one is a presenter at the conference. Hot topic of conversation during dinner? The joys of being completely ignored by the vendors in the conference's exhibit hall. Some vendors literally ask where our husbands are before they say, "How can I help you?" Sigh…
14 of us enjoyed the buffet at the Bellagio in Las Vegas
SCIENCE IS ON THE SIDE OF THE FEMALE DJ
Why? Because women are better mulit-taskers and better people-readers, according to science. This means female DJs are better equipped to keep track of your event timeline, watch the dance floor, remember that you changed your Bouquet Toss song at the last minute, and eat her dinner while cuing up the next song in the headphones…all at once. (P.S. why not ask your caterer to serve the vendors first instead of last so we can finish eating before coordinating your toasts, photographing your cake cutting, or starting your dance music?)
According to Louann Brizendine's book The Female Brain, here are a few reasons women are better equipped to read dance floors:
"The areas of the brain that track gut feelings are larger and more sensitive in the female brain" (p. 120).
"Being able to guess what another person is thinking or feeling is, essentially, mind reading. And overall, the female brain is gifted at quickly assessing the thoughts, beliefs, and intentions of others, based on the smallest hints" (p. 120-121).
"Men don't seem to have the same innate ability to read faces and tone of voice for emotional nuance" (p. 121).
"Just about the first thing the female brain compels a baby to do is study faces" (p. 14).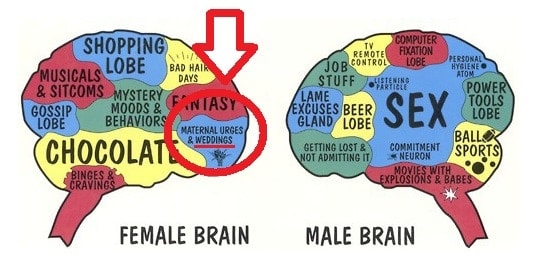 Worried that a female San Diego DJ won't be as proficient using her own sound equipment or DJ software as a man would be?
"When girls and boys first hit their teen years, the different in their mathematical and scientific capacity is nonexistent" (p. 7).
"The fact that fewer women end up in science has nothing to do with female brain deficiencies in math and science" (p. 8).
Finally, scientific proof that women are better multi-taskers is abundant:
"Men were slower and less organised than women when switching rapidly between tasks in tests by UK psychologists. Both sexes struggled to cope with juggling priorities, but men suffered more on average, according to the paper in the journal BMC Psychology." (Source: BBC.com)
"The male brain is configured for a single task at a time due to fewer connecting fibers between the right and left hemispheres, in fact if you read a man's brain scan while reading you will find him practically deaf to his surroundings." (Source: TopHealthNews.net)
"A recent study in Human Physiology found men require more brainpower than women when multitasking. 'Our findings suggest that women might find it easier than men to switch attention and their brains do not need to mobilize extra resources in doing so, as opposed to male brains," said Svetlana Kuptsova, author of the study…'" (Source: MedicalDaily.com)
In addition to studies, statistics, and the other things mentioned above, the reasons I hear over and over again from my clients on why they wanted a female San Diego DJ are: they felt I'd be more punctual, they felt I'd be more organized, and they felt I'd present my sound and light equipment in a more aesthetically-pleasing way (as not to be an eye sore at their event).
WHO IS "HOLDING BACK" FEMALE DJs?
Well, other women. Of course.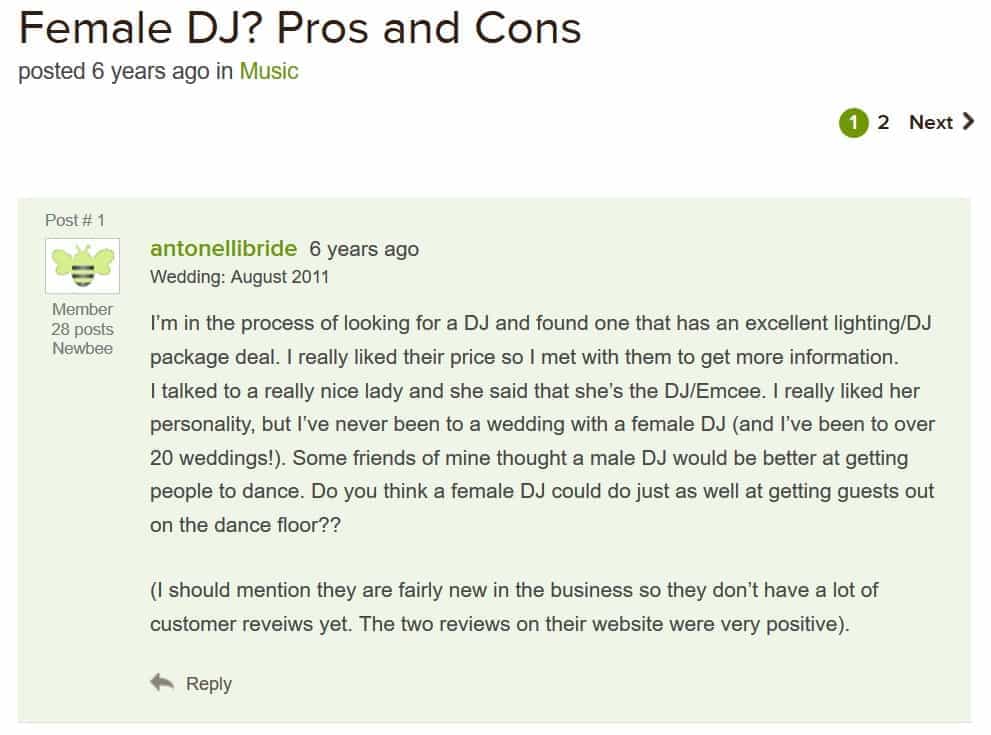 In my experience, male DJs, grooms, male night club owners, and so on are very inclusive and encouraging of female DJs. We might not get paid as well as our male counterparts and be judged on our appearance more often, but–for the most part–the male DJ community has welcomed us with open arms. In fact, just this week, I emailed my male editor from Mobile Beat (the DJ magazine who sponsors the conference mentioned above) asking about getting a discount on a second all-access conference pass if I purchased 2 passes.
Why? Because last year, I had to make the choice of leaving my 3-year-old daughter with my neighbor for 5 days in order to attend the conference or staying home with her. I chose to stay home. This year I feel my daughter is old enough to not be a distraction to other conference-goers during lectures, so I wanted to buy her a pass and not have to sit this one out. I made a joke to my editor that if I was at a conference attended by 97% women (instead of vice versa), there would probably be a free daycare on-site.
The outcome? In less than an hour, my editor had approved not just a discounted second pass for my daughter but a FREE pass. WOW!!!! As a staff writer for Mobile Beat for over 2 years now, my experience has been overwhelmingly positive like this (My editor once let me write to my male counterparts that showing off the "big-ness" of your subwoofer is like hanging truck balls on a bride's big day…it's NOT a selling point!). Now if we could just get rid of ignorant/sexist vendors in the conference exhibit hall and awesome internet commenters like this guy…
Save
Save
Save
Save
Save
Save
Save
Save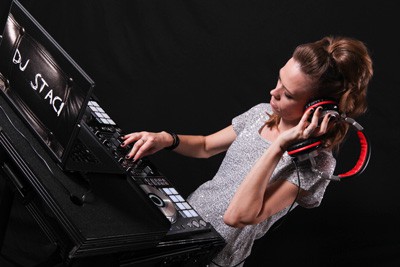 "You can go your own way"...and unsubscribe any time.