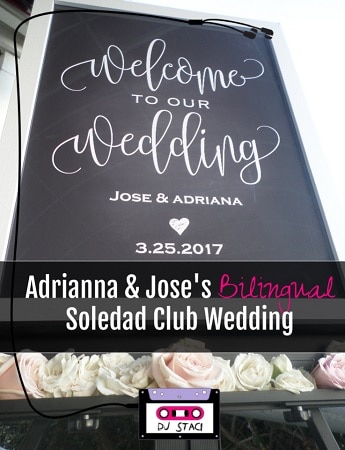 Of all the bilingual San Diego wedding DJs out there, Adriana and Jose chose me to DJ and MC their Hispanic Soledad Club wedding on Saturday, March 25, 2017.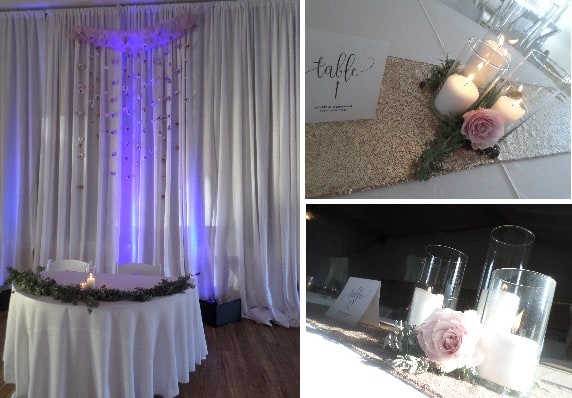 THE LOVE STORY
Jose & Adriana met in November 2010, when they worked together at a preschool program called Jumpstart. They recognized each other at a party one day and started talking–they chatted about music, travel, and food.
The first time Jose & Adriana said 'I love you' was on the phone. They were chatting, and Adriana accidentally just blurted it out. Jose said it back and did not think anything of it.
Fast forward a few years later, and Jose was planning to propose to Adriana. On November 24th, 2015, Adriana had a week off for Thanksgiving and was going to Modesto to spend the holiday with her family. Jose requested a week off from work but did not tell Adriana. A few days before Thanksgiving, Jose told Adriana he was going to visit her in Modesto for a day and drive back the next day. When Jose arrived he convinced Adriana to go on a little trip. Jose woke up really early the following day and spoke to Adriana's father, who gave his blessing.
Jose and Adriana decided to visit Napa Valley. As the sun was setting, Jose prepared to enact his proposal plan. They were wine tasting and snuck away into the vineyard where they found a small lake. Jose knew that this was his moment and got down on one knee. He asked Adriana a very important question…I'm guessing you know how she answered since we are about to welcome Mr. and Mrs. Leon to the dance floor for their first dance as husband and wife.
Together they enjoy Netflix, going to breweries, traveling, Costco outings, and road trips.

THE SOLEDAD CLUB WEDDING RECEPTION
Lots of long-distance travelers at this Soledad Club wedding: Jose's brother Chendo and his wife from Japan, Jose's brother Jesus and family from Germany, Adriana's family from northern California, Adriana's brother Erik from Portland, and Adriana's friend Maika also from Germany. Phew!
For the Grand Entrance, Jose REALLY, REALLY wanted to do Metallica, so we ended up using "Master of Puppets." The First Dance was "What a Wonderful World" by Louie Armstrong. The Father-Daughter Dance was "Vals Para Una Novia" by Alejandro Jaen. Jose gave his mom a rose bouquet as I introduced the Mother-Son Dance, which was "Madrecita Querida" by Vicente Fernandez. After was the Mandilon…check this out in the video below if you've never seen it before. Jose gets dressed up in an apron with a broom and a baby on his hip while Adriana "whips" him with a belt and holds a cocktail! Gotta love those Mexican wedding traditions!
After the open dancing started, Jose & Adriana wanted a Money Dance with fast music (nothing slow and sappy). Then we did the Bouquet Toss to Ludacris' "Move B*tch" and the Garter Removal to "Foxy Lady" by Jimi Hendrix. For the Garter "Toss," we had the single guys do push-ups to the Rocky Theme ("Gonna Fly Now"). Whoever stopped first got "stuck" with the garter!

HOW ADRIANA & JOSE CATERED THEIR WEDDING FOR $700
They served hamburgers and fries from the Habit Food truck with fresh fruit, cheese, and crackers for appetizers. There were a few different burgers on the menu (I had the veggie burger). The burgers were ordered on the spot and prepared fresh. Each guest had to wait about 5-10 minutes from the time they placed their orders until their orders were ready. The fries were especially delish, and I would highly recommend the Habit Food Truck to anyone wanted to plan a unique and affordable wedding dining experience (in 8 years as a DJ, this was my first time eating burgers at a wedding….BBQ & taco bars, on the other hand…been there, done that).

THE PLAYLIST
For dinner, their playlist consisted of: Red Hot Chili Peppers, Sin Bandera, Mana's "Mariposa Tracionera," Juanes' "Para tu Amor," Ray Lamontagne's "You are the Best Thing," Ingrid Michaelson's "Take Me the Way I Am," Oasis' "Wonderwall," The Killers' "Mr. Brightside," Foo Fighters' "Everlong," Modest Mouse's "Float On," Grouplove's "Tongue Tied," Foster the People's "Pumped up Kicks," Two Door Cinema Club's "What You Know," Empire of the Sun's "Walking on a Dream," John Legend's "All of Me," and Jay Z's "Forever Young."
For the Last Dance, Jose & Adriana requested Miley Cyrus' "Party in the USA," which is sort of a tradition among their friends. Again, I was honored to be the one and only bilingual San Diego wedding DJ Jose & Adriana trusted with their big day. Thank you! See more at #ItsLeonTime.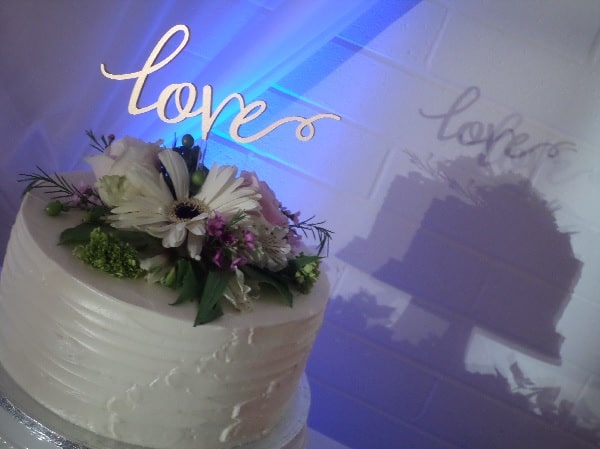 SAN DIEGO WEDDING VENDOR LIST
Here is the amazing team of San Diego wedding vendors I had the pleasure of working with on Saturday: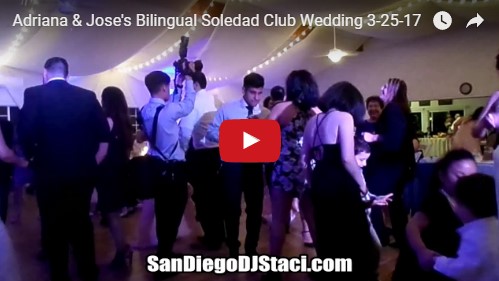 Save
Save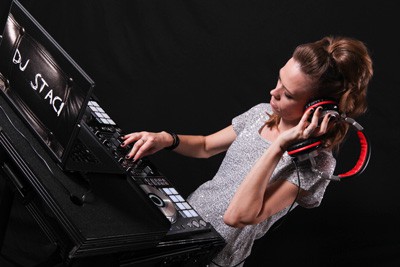 "You can go your own way"...and unsubscribe any time.